Andrew, the YASCer currently in the Philippines, picked us up from the airport and we drove a bit through metro Manilla to where the Cathedral and the national church offices were. They poured us into bed at the guest house. I think I got a few hours of sleep, but me and transitions are not exactly friendly. I woke up a few hours before dawn and watched as the sky gradually brightened and birds and roosters woke up first.
Our days in Manilla were pretty unscheduled. We met a few of the people in the National Office, we got cells that would work in the Philippines, and on Sunday we went to the second services at the Cathedral and tried to go and visit Taal volcano. I say tried, because the rainy season means that when we got out to the volcano and went to a restaurant that was supposed to have a good view it was so foggy we couldn't see much of anything. Really, the best thing about that restaurant, since we didn't have much of a view, was that there was a live band of the semi-Mariachi strain playing "The Tennessee Waltz" at us.
That's been one of my other big surprises about the Philippines. Especially in Baguio the most popular genres of music are folk and 90/early 2000s era country. Seriously, everything I grew up listening to when the country music station was the only one we could get clearly in the basement of my house is on the radio and mp3 players here.
Monday morning we did visa work with the national office, and then I was driven up to Baguio. With Lloyd and Andrew driving it was about a five hour drive with low levels of traffic. Apparently on a bus it's closer to seven hours or longer. Traffic and driving in the Philippines is rather terrifying. Most of the time the highway was a two-lane road, so whenever Lloyd wanted to overtake a slower type of vehicle he would switch into the lane of oncoming traffic. Everyone does it here, so every so often as you drive you are suddenly confronted by someone driving straight at you and hoping that the correct lane lets you or them back in in time to avoid a collision.
I'm going to post a few pictures of the drive up, once we entered the mountains. They were so beautiful, and my pictures are somewhat blurry, so you'll only get a bit of a taste for it, but imagine driving through these for two hours to get into the city: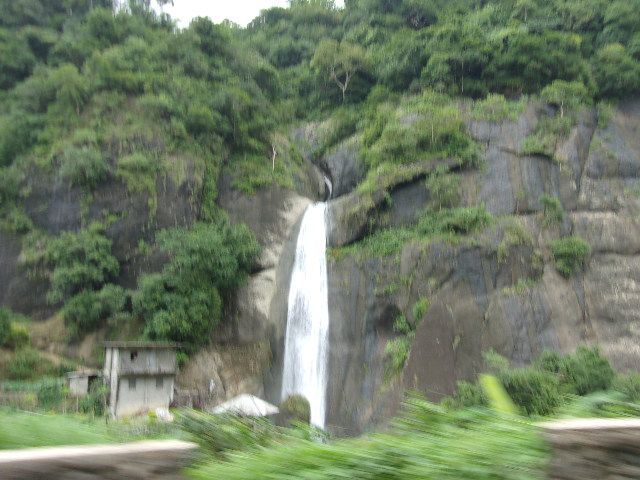 Currently I'm living on the cathedral compound in Baguio, at a combination restaurant/inn run by the diocese of the North Central Philippines. That's temporary, in a while I will be moving to a set of rooms on the college campus that are maintained by the Hospitality students in the college. When I'm set there I will finally have my physical and mailing addresses figured out and will let everyone who has asked me know.
I've spent part of this week talking with the President of Easter College and the principal of the high school. Currently the plan is that I will help co-teach three levels of Christian Ed, and assist with a course on practical spoken English. Yesterday was Friday, and I spent it at the high school observing some classes, including two of the ones I will be assisting in. Looking at the schedule, I believe I'm going to be working with all four grades in the high school in one class or another.
Once I'm more integrated into the school and have my rhythm of classes figured out, I'll post something more of a day in the life of a teacher.